3A. ALGIBOND EPOXY 202
EPOXY BASED MOISTURE INSENSITIVE THIXOTROPIC BONDING AGENT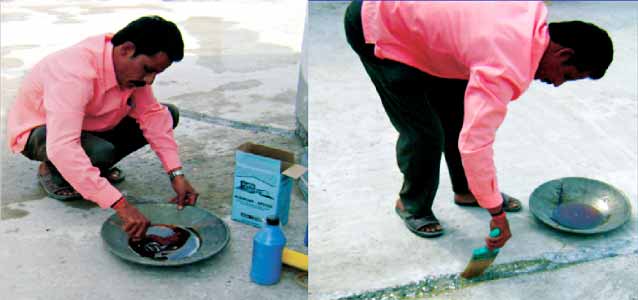 Properties: Excellent adhesion to concrete, screed, mortar etc. Application: Suitable for bonding joints between old to new concrete.
Application Method: Use entire quantity of resin and hardner & mix well and apply a single thick coat by brush over clean and dry surface. In case of part mixing only weight batching should be adopted. Immediately place and compact fresh concrete or mortaron it.
Coverage: 30 running feet per Kg. for a 4 inch thick concrete slab joint or 20ft2/kg for application on concrete slab.
Download Product PDF

3B. ALGIBOND EPX202 ULTRA FS
FAST SETTING EPOXY BASED MOISTURE INSENSITIVE
THRIXOTROPIC BONDING AGENT (Sets within 30 minutes)
3C. ALGIBOND LATEX
SBR LATEX BASED BONDING AGENT.

Properties: For improving adhesion between cement mortar & concrete in patch repairs, plastering, screed concrete etc.
Application Method: Mix ALGIBOND LATEX with fresh cement in the ratio of 1:1.5 by volume and apply one coat of mixed material by brush over the cleaned surface. Immediately pour fresh concrete or mortar over it and compact.
Coverage: 45 Sq. ft. per litre.
Download Product PDF