Floor Hardners & Epoxy Flooring
11A. ALGIHARD FLOOR NM
DRY SHAKE FLOOR HARDENER AND WATER PROOFER WHICH IS SUITABLE FOR BOTH DRY AND WET FLOORS.

Properties: It has 3.5 times abrasion resistance of normal concrete. It produces highly abrasion resistant hard wearing surface, based on non metallic aggregates which do not corrode. Ideally suited for, dry docks, dry floors, heavy machine shops etc. Compressive 2 strength of ALGIHARD FLOOR NM is 600 Kg/cm .
Application Method: Spread ALGIHARD FLOOR NM at the rate of 0.4 Kg/Sq. ft. over freshly laid concrete floor (2 to 3 hr after placing concrete) and finish the concrete surface with trowel or preferably with a power trowel. Spread another 0.2 Kg per Sq. Ft. just before the final set (3 to 4 Hours) and finish with trowel or power trowel.
Coverage: 0.6 Kg per Sq. Ft.
Download Product PDF

11B. ALGIHARDFLOOR-M
DRY SHAKE FLOOR HARDENER AND WATER PROOFER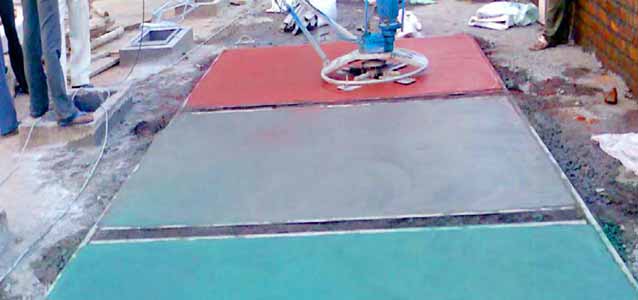 Properties: Algihardfloor-M is an ideal and economical metallic floor hardener for heavy and light duty industrial flooring, workshops, platforms, harbours, loading docks, warehouses etc. where heavy movement of vehicles and goods take place.
Coverage: Light traffic: 3.0 kg per m², Medium traffic: 4.5 kg per m², Heavy traffic: 5.0 kg per m², Extra heavy traffic: 7.0 kg per m².
11C. ALGICOAT-EPX 130
A SOLVENTLESS LIGHT DUTY EPOXY FLOOR COATING
Properties: ALGICOAT –EPX 130 is a solventless pigmented epoxy floor coating for hard wearing, light duty aesthetically pleasing coloured floor coating. It can be used in food processing industries, workshops, kitchens, showrooms, soft drink production and bottling plants etc. It is also suitable for walls and ceilings to provide easily cleanable surface.
Coverage: On a smooth concrete surface, ALGICOAT-EPX 130 will give coverage of 3.5m²/kg for a two coat application
11D. ALGIFLOOR EPX 320
EPOXY MORTAR SYSTEM FOR HEAVY DUTY FLOORING (3 TO 5MM THICKNESS).
Properties: It has excellent impact and abrasion resistance and can withstand very heavy loads. It is joint less and is non slip and hence suitable for industrial plants, processing areas, harbours, airports, workshop flooring subjected to heavy impact loading. Compressive strength after 2 days = 700 Kg/sq.m.
Application Method: Apply a coat of ALGICOAT primer on clean and dry concrete floor. Wait until it is tack free. Mix ALGIFLOOR EPX 320 resin and hardener to uniform consistency, then slowly add filler and mix well. Keep it for 5 min. Place this mortar on floor & finish with trowel. Compact the mortar with trowel to get uniform finish.
Coverage: ALGICOAT PRIMER 40 sq. ft. / kg. ALGIFLOOR EPX 320 = 1.1 sq. ft. / kg for 3mm.
11E. ALGIRAPIDPATCH
FAST SETTING CONCRETE PATCHING COMPOUND
Properties: ALGIRAPIDPATCH is an economical modified cement mortar formulation of carefully selected additives that sets within half an hour. Algirapidpatch finds application for industrial, road repairs and wherever potholes are needed to be repaired very quickly.
Coverage: 2 kg of Algirapidpatch per sq.ft. for 12 mm depth.